Auto Insurance
What is auto insurance?

Auto insurance protects you against financial loss if you have an accident. It is a contract between you and the insurance company. You agree to pay the premium and the insurance company agrees to pay your losses as defined in your policy.
Click the following quote button and we can get you a quote for your insurance needs: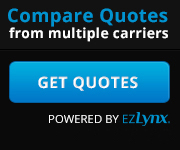 Auto insurance provides property, liability and medical coverage:
Property coverage pays for damage to other people's vehicles and property.
Liability coverage pays for your legal responsibility to others for bodily injury or property damage.
Medical coverage pays for the cost of treating injuries, rehabilitation and sometimes lost wages and funeral expenses.
Comprehensive damage cover's damage to your vehicle for acts of nature, theft and animal hits such as deer.
Collision damage cover's damage caused by colliding with another object, such as a car or ditch.  This will also cover if someone hits your vehicle and they do not have insurance.
Deductible is the amount that you agree to pay before your insurance paying for the remaining damage to your vehicle.
An auto insurance policy is comprised of six different kinds of coverage. Most states require you to buy some, but not all, of these coverages. If you're financing a car, your lender may also have requirements.
Why do you need auto insurance?
It's really all about protecting yourself financially.
If you're in an accident or your car is stolen, it costs money, often a lot of money, to fix or replace it.
If you or any passengers are injured in an accident, medical costs can be extremely expensive.
If you or your car is responsible for damage or injury to others, you may be sued for much more than you're worth. The death of even one adult can be evaluated by a court to be worth more than $300,000, plus pain and suffering.  And the death of a child has resulted in over a half million dollar judgments by courts.
Not only is having insurance a prudent financial decision, many states require you to have at least some coverage.
Questions to ask your agent
Your Independent Agent is an advocate for finding auto insurance that meets your specific needs. Here are a few things to consider as you prepare for the discussion:
How much can you afford to pay if you get in an accident? (To keep premiums low you may want to have a higher deductible and be willing to pay more for repairs.)
What is the insurance company's level of service and ability to pay claims?
What discounts are available? (Ask about good driver, multiple policy and student discounts.)
What's the procedure for filing and settling a claim? (Ask who to call and what happens after you file a claim.)
Ask the premiums for a higher limit of insurance.  You will be surprised at how little it would be per month to even go one step above where you currently are.
Click the following quote button and we can get you a quote for your insurance needs: