Flood Insurance
Rivers, creeks and low-lying areas have a tendency to flood. Just a few inches of water can cause thousands of dollars of damage and flood damage to homes can be very costly. Unfortunately, many property owners are unaware that flood protection is not included in their homeowners insurance and that it must be purchased separately.
National Flood Insurance Program Statistics
Floods are the #1 natural disaster in the United States.
From 2008 to 2012, the average flood claim amounted to nearly $42,000.
From 2003 to 2012, total flood insurance claims averaged nearly $4 billion per year.
In 2012, the average flood insurance policy premium was about $650 per year.
Even though flood insurance isn't federally required, anyone can be financially vulnerable to floods. In fact, people outside of mapped high-risk flood areas file nearly 25% of all National Flood Insurance Program flood insurance claims and receive one-third of Federal Disaster Assistance for flooding.
The NFIP paid more than $7.7 billion in flood insurance claims to all policyholders in 2012.
People who live outside high-risk flood areas file more than 20% of NFIP claims and get more than 33% of disaster relief funds.
What Is the National Flood Insurance Program (NFIP)?
The NFIP was instituted by Congress in 1968 to provide flood insurance policies to homeowners, business owners and renters in communities that participate in the program. The flood program, which is administered by FEMA, works with more than 80 private insurance carriers to provide flood insurance to cover damages that result from flash floods, hurricanes, winter storms or heavy rains.
Click the following quote button and we can get you a quote for your insurance needs: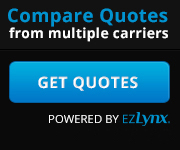 Regardless of the number of private insurance carriers that offer flood insurance, the premiums do not change from company to company; they are set by FEMA and are based on factors like the type of construction of the home, the land the house is built on, the location of the home within the flood plain and other factors. The lower the risk of flood damage and the lower the coverage amount for the home or business, the lower the premium is.
It is important NOT to wait until a flood warning to consider buying flood protection, as there is a 30 day waiting period after paying your first premium before the policy goes into effect.
Do I Need Flood Insurance?
Flooding occurs in all 50 states and is not covered in home or renter's policies. According to FEMA, most people are likely to need flood insurance at some point. FEMA has flood plain maps for every area in the country, and it lists areas as 10-year, 30-year, 50-year or 100- year flood plains based on elevation, slope of the land, soil, proximity to water sources and other factors.
While mortgage companies will require it's homeowners to have flood insurance if located in a flood zone, anyone can purchase flood insurance even if they are not in a flood zone. Definition of flood is an overflow of water onto land that is normally dry. Flood is also defined as a large amount of water moving from one place to another. Such as if you have an above ground pool and the pool collapse, any water that flows into the neighboring home would be considered damage by flooding. And if you have a large amount of rain and if water starts to come in through a crack in your foundation, it may be possible that the insurance company will deem this due to flooding.
What Kind of Flood Insurance Do I Need?
There are actually several kinds of flood insurance coverage that can cover home, renters, condos and business that you can purchase:
General Property Policy – can be used to cover 5 or more family residential buildings and non-residential buildings
Residential Condominium Building Association Policy – to insure condominiums and town homes
Standard Flood Insurance Policy – Dwelling – The most common form of coverage, used to insure up to 4 family residential buildings and single family dwelling units in a condo/townhouse building
For standard dwelling coverage, you have two options:
Building property coverage – up to $250,000
Personal property coverage – up to $100,000
The NFIP strongly recommends homeowners purchase both coverage options. It's a good idea to speak with your lender, as a mortgage company can also require you to carry a certain amount and type of flood coverage for the building if you are located in a flood zone, personal property however is likely optional.
These two combined coverage types will cover most things in your home, with some exceptions. For example, you will not be reimbursed for damage to m
cars
ATVs
any belongings outside of the building (including landscaping, septic systems, patios, hot tubs, and swimming pools),
currency,
 precious metals
stock certificates
If you have a multistory home, the coverage could be more complicated depending on your location in a flood zone and the age of your home. Basements, crawlspaces, and walkout basements have limited coverage, no matter the age or type of home you have. If your home has any of these items, make sure to ask your insurance agent about how your items can be protected from flood damage. For example, even if you carry both building property and personal property coverage, you may not have any insurance protection for the following items in your basement:
Personal items, like clothes, electronics and furniture
Non-drywall walls or ceilings
Carpeting
Paneling
Bookcases and built-in units
Window treatments
A flood insurance policy won't ever pay out any more than the amount of the policy, thus if you insure at $100,000 for the home, then this will be the limit of the insurance. Residential home flood insurance, can not exceed more than $250,000 for the dwelling coverage. You can choose to buy building coverage at replacement cost value (RCV) or actual cash value (ACV). However, you can only buy personal property flood insurance at ACV coverage amounts.
These two types of reimbursement generally break down this way:
Replacement cost value: The cost to replace items that are damaged, without taking into account depreciation over time. Thus if it takes $100,000 to repair your home and you have over $100,000 in coverage, then your policy will pay that amount to do the repairs.
Actual cash value: The cost to replace items at the time of the loss, taking into account depreciation. Keep in mind in the event of a partial loss (only part of the home is destroyed/damaged, you will need to pay more than your deductible to have the home repaired. This amount will depend on the value of the items that was damaged and the cost of having those items repaired.
Flood insurance is complicated. It's highly recommended that you speak to a professional agent who can help you get the coverage you need and fully understand your options.
What Events Does Flood Insurance Cover?
Flood insurance covers physical damage to structures affected by flooding from heavy snow melt, runoff following heavy rainfall, and so on. Your flood insurance policy will also cover any damage caused from erosion due to currents or uncommon water cycles (for example, if your home is built along a shore that collapses due to waves, currents or rising water). Damage caused by mudflows or mudslides can be covered, but the policy may have very specific definitions for a covered mudslide event. It's important to read your insurance documents if you are in a high-risk mudslide area.
How Much Does Flood Coverage Cost?
Premiums for flood insurance coverage vary greatly from state to state and area to area, and depend on a variety of factors including flood risk and the value of the home being insured. Flood insurance can be as low as $130 per year, for a renewable one-year policy.