Commercial Auto
As a business owner, you need the same kinds of insurance coverages for the car you use in your business as you do for a car used for personal travel — liability, collision and comprehensive, medical payments and coverage for uninsured motorists.
Whether you need to buy a business auto insurance policy will depend on the kind of driving you do. How you use vehicles in your business, who will be driving them and whether employees, if you have them, are likely to be driving their own cars for your business.
Click the following quote button and we can get you a quote for your insurance needs: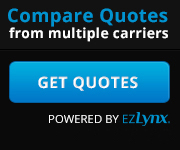 While the major coverages are the same, a business auto policy differs from a personal auto policy in many technical respects, as policies are written for the type of business use that the business will be doing.
Commercial Auto insurance provides property, liability and medical coverage:
Liability coverage pays for your legal responsibility to others for bodily injury.
Property coverage pays for damage to other people's vehicles and property.
Under-insured motorist covers your injuries should the other person be at fault and they do not have enough liability limits on their insurance to cover your medical expenses. This coverage is limited to the amount of coverage that you selected for your own liability limits.
Uninsured motorist covers your medical expenses if the other person by at fault and they have no auto insurance. This coverage can be equal or lower than your liability limits.
Medical coverage pays for the cost of treating injuries, rehabilitation and sometimes lost wages and funeral expenses.
Optional:
Comprehensive damage cover's damage to your vehicle for acts of nature, theft and animal hits such as deer. And is subject to your deductible you select.
Collision damage cover's damage caused by colliding with another object, such as a car or ditch. This will also cover if someone hits your vehicle and they do not have insurance. You pay the deductible you select and your insurance will pay for remaining repairs or value to your vehicle.
**Deductible is the amount under comprehensive and collision that you agree to pay before your insurance paying for the remaining damage/value to your vehicle. The higher your deductible the lower the costs of these coverages will be on your vehicle. Vehicle lenders often require Comprehensive and Collision coverage.
Commercial auto insurance may offer higher limits of liability, under-insured, uninsured, medical and property damage than what is offered under a personal auto insurance policy. Many business people use the same vehicle for both business and pleasure. If the vehicle is owned by the business, make sure the name of the business appears on the policy as the "principal insured" rather than your name. This will avoid possible confusion in the event that you need to file a claim or a claim is filed against you.